Dry concrete batching plants are a type of machinery that dry without a concrete mixer, they mix concrete by the truck mixer.
As a practitioner in the engineering mixing industry, I want to show you details about dry concrete batching plants which are also called dry mix concrete batching plants or transit mix plants.
When talking about the concept of a dry mix concrete plant, we have to mention the wet mix concrete plant.
Dry mix concrete plant vs wet mix concrete plant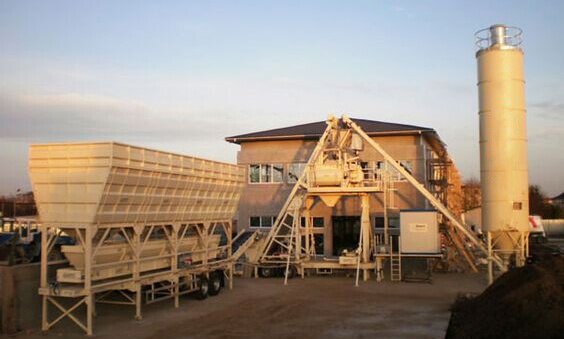 A dry mix concrete plant, also known as a transit mix plant, weighs sand, gravel and cement in weigh batchers via digital or manual scales. All the ingredients are then discharged into a chute, which discharges into a truck. Meanwhile, water is either being weighed or volumetrically metered and discharged through the same charging chute into the mixer truck. These ingredients are then mixed for a minimum of 70 to 100 revolutions during transportation to the jobsite.
A wet mix concrete plant combines some or all of the above ingredients (including water) at a central location into a concrete mixer – that is, the concrete is mixed at a single point, and then simply agitated on the way to the jobsite to prevent setting (using agitators or ready mix trucks) or hauled to the jobsite in an open-bodied dump truck. Dry mix plants differ from wet mix plants in that wet mix plants contain a central mixer, which can offer a more consistent mixture in a shorter time (generally 5 minutes or less). Dry mix plants typically see more break strength standard deviation and variation from load to load because of inconsistencies in mix times, truck blade and drum conditions, traffic conditions, etc. With a central mix plant, all loads see the same mixing action and there is an initial quality control point when discharging from the central mixer. Certain plants combine both dry and wet characteristics for increased production or for seasonality. For example, a mobile batch plant can be constructed on a large job site.[1]
Components of a dry concrete mixing plant
The dry mix concrete mixing plant consists of aggregate batching machine, cement supply system, water supply system, cement weighing system, water weighing system, control system, etc.
When how to use a dry concrete mixing plant
A dry concrete mixing plant is ideal when the plant is located far from the construction site. The reason for adding water later determines that you may need to use fresh concrete.
How to use a dry concrete mixing plant
A dry concrete mixing plant combines every ingredient needed to create concrete, with one exception, and that is water. After the mixture is actually transferred to the truck, the operator will most likely add water to the mixture. Often trucks with drum mixers mix the mixture during transport and these combine all the ingredients to produce fresh concrete on site.
On the other hand, there are three options you can expect when using these types of concrete. You can set the mixer to a low speed during the trip and gradually increase its speed before use. When transporting this product to the construction site, you can ideally mix the concrete in the mixing position and adjust the speed to lower it.
Features and advantages of a dry concrete batching plant
1. Very suitable for sparsely populated areas.
2. No need for concrete mixer, low investment, high return.
3. High efficiency and energy saving. No need to mix, save time and electricity.
4. Computer control, the whole production process can be displayed visually on the screen.
5. Precise batching system (aggregate, cement, water, additives, etc.)
6. belt feeding system, continuous and efficient.
If you need more information about the dry mix concrete batching plant, check our website or leave a message to tell us, we will try our best to answer your questions.
Reference
[1] https://en.wikipedia.org/wiki/Concrete_plant#Dry_Mix_Concrete_Plant